Welcome to the philosopher Giovanni Piana's Archive. His wide production (29 volumes) has been translated, commented and quoted in a number of scholarly works. Phenomenology, the philosophy of perception and imagination, epistemology, the philosophy of music are just a few of the key interests of the author. Google Scholar include 761 quotes of his works by others. Translator in 1968 of Husserl's Logical Investigations, he taught Theoretical Philosophy from 1970 to 1999 at University of Milan.
In the Italian section, the integral of his "Complete works" is freely distributed. This English section is a gateway for the international readers, who can easily access also the section on Images (Immagini) and Sounds (Suoni).
Bienvenidos a la pagina español de l'archivo del filosófo Giovanni Piana! Sú amplia producción (29 volumes) es gratuitamente disponible aquì, incluida su introducción a la filosofía, que explica qué es la filosofía en su pensamiento. Invitamos a la lectura y a las investigaciónes fenomenológicas de los frutos de la imaginación, como la música, en el enlace con eso autor muy práctico.
Full 2020 issue on Giovanni Piana: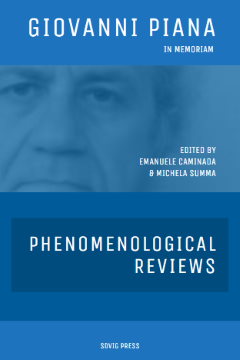 Giovanni Piana: the epistemic virtues of phenomenology as method by Emanuele Caminada (Husserl-Archives, KU Leuven) and Michela Summa (Wurzburg University)
Structures of experience and philosophical analysis in the phenomenology of Giovanni Piana by Vincenzo Costa (University Vita-Salute San Raffaele)
Das sinnlich Gegebene als das Maßgebende: Zur Verteidigung und Weiterführung von Pianas objektivistischer Auffassung der Phänomenologie by Vittorio De Palma (Italian Institute for Philosophical Studies)
The lightning-filled night: phenomenology and "metaphysics" in Giovanni Piana's philosophy of imagination by Paolo Spinicci (University of Milan)

Expressive qualities: a proposal based on Giovanni Piana's phenomenological structuralism by Francesca Forlè (University Vita-Salute San Raffaele)

Wholes and values: an application of Giovanni Piana's phenomenological structuralism by Roberta de Monticelli(University Vita-Salute San Raffaele)

Giovanni Piana's "Conversazioni" and some recent controversies on Husserl's "Krisis" by Andrea Staiti (University of Parma)

For a genealogy of geometrical figures: Giovanni Piana in memoriam by Paola Basso (University of Milan)

Soundmark(s): dedicated to Giovanni Piana by Carlo Serra (University of Calabria)
Giovanni Piana on musical meaning by Matteo Ravasio (Peking University)

 Against naturalism, for a phenomenology of music - Taking side with Giovanni Piana by Riccardo Martinelli (University of Trieste)

Sound stands on the skin: Matter, timbre and corporeality in Giovanni Piana's phenomenology of music by Filippo Marani Tassinari (University of Milan) and Matteo Meda (University of Milan)

Giovanni Piana e Marina Romussi in Stralci di una vita Francesco Fersini (Liceo statale Girolamo Comi di Tricase)

Il segno lasciato Sergio Lanza

The idea of Europe and the responsibility of philosophy: Conversation on "The Crisis of European sciences", by Giovanni Piana Stefano Cardini

A non-mental experiment by Nicola Pedone

Striking sentences in Giovanni Piana's Complete works by Anna Lombardo (Trinity College Dublin)

Materials for a lexicographic analysis of Giovanni Piana's Complete works by Valentino Piana (HES-SO Valais-Wallis) Lexicon; Distinctive lexicon; Complete works in one text file.
There are only very few texts by Piana that have already been translated. This Archive  Questo indirizzo e-mail è protetto dallo spam bot. Abilita Javascript per vederlo.  (at Questo indirizzo e-mail è protetto dallo spam bot. Abilita Javascript per vederlo. ).
1. Phenomenology as Philosophical Method - translation by Michela Summa - published in Metodo. International Studies in Phenomenology and Philosophy Vol. 4, n. 1 (2016) ISSN 2281-9177. https://doi.org/10.19079/metodo.4.1.183
2. Phenomenology of materials and field of decisions - Some reflections on the art of composing. Translation by Giovanni Piana - This text was published in The song of Seikilos dedicated to Dino Formaggio in his eightieth birthday by Guerini e Associati, Milan 1995, pp. 45-55
3. A praise of musical imagination - De Musica (1994)
4. History and Existence in Husserl's Manuscripts. English Translation by Anthony Roda, "Telos", October 1972. In 2012 this translation was highlighted as an article whose critical insights continue to illuminate our thinking and challenge our assumptions in this paper  Damien Booth, Intersubjectivity and Time: Piana on Husserl's Manuscripts, August 27, 2012.
5. Piana, G. (1998). Philosophy of music and its aim: a brief account. Axiomathes 9 (1-2), pp. 213-222.
6. Piana, G. (1996), The idea of a phenomenological structuralism - translation by Patrick Flack - published in Phenolomenological Reviews, Giovanni Piana: In Memoriam, 2020. DOI:10.19079/PR.s1.2
In German:
7. Die Idee eines phaenomenologischen Strukturalismus
In Portuguese / Brazilian language (full book):
8. A filosofia da Música, Edusc, Bauru 2001.
An English-language list of his publication is at the Open Commons of Phenomenology. Please note that it does not yet contain the full series of the Complete Works, downloadble from this link. They have been produced by Piana himself in 2013, providing a systematic reordering of all its production. Notably, he destroyed all the materials from the University courses to provide a clean and complete representation of his thinking. 
The philosopher Giovanni Piana has been widely quoted in English (as well as in other languages). Here a selection of such papers.
A. Piana & Husserl
Husserl's Ideen  by Lester Embree, Thomas Nenon - in particular in the chapter by Sacconago stating:
"...Giovanni Piana, another decisive figure in the development of phenomenology in Italy"
Ideen I in Italy and Enzo Paci and the Milan School
Spileers S. (1999) Secondary Literature. In: Spileers S. (eds) Edmund Husserl Bibliography. Husserliana (Dokumente), vol 4. Springer, Dordrecht. - Secondary Literature (Part of the Husserliana book series (HUDO, volume 4))
The space representation in the early Husserl (1891-1901)
B. Piana and general phenomenology
Intentionality between phenomenology and the cognitive sciences
Technology and information under a phenomenological approach - Resca, Univerità Luiss, Roma.
C. Piana as major representative of "phenomenological structuralism"
Between Realism and Idealism Transcendental Experience and Truth in Husserl's Phenomenology by Simone Aurora
Principles of structural phenomenology - a basic outline and commentary by Simone Aurora, Patrick Flack
D. Emotions as element of the experience
Atmospheres: aesthetics of emotional spaces
E. Piana's philosophy of music
THE PHILOSOPHY OF MUSIC IN THE 20th CENTURY Carlo Migliaccio and Anne Goodrich HeckRivista Italiana di MusicologiaVol. 35, No. 1/2, Le discipline musicologiche: prospettive di fine secolo / The musicological disciplines: end-of-century prospects (2000), pp. 187-210
 Rodrigues, Indioney Carneiro. 2019. The Rhythmic Idea and the Musical Representation of Time. Doctoral thesis, Goldsmiths, University of London.
TO FEEL LIKE VOICES. VOCAL EXPRESSION: SOUND OF THE SUBJECT by Simone Broglia (2011)
Emotions in Music. An Overview of Musical Expressive Qualities
Constituting the Musical Object: A Neurophenomenological Perspective on Musical Research - Andrea Schiavio - Teorema: Revista Internacional de Filosofía, Vol. 31, No. 3, Filosofía de la música/Philosophy of Music (2012), pp. 63-80
Gigliucci, Roberto, Music and Poetry: a Call for Interpretation, http://dx.doi.org/10.14195/2183-1718_66_21, Faculdade de Letras da Universidade de Coimbra. Instituto de Estudos Clássicos, ed. lit., Humanitas, Imprensa da Universidade de Coimbra, 2014
F. Piana on colours
Interprating Chromatic Codes through the Ages and in Different Modern Social Context Dario Terzić Visoka škola za turizam i menadžment, Konjic, UDK 159.937.51:340.64 Pregledni članak Review article Primljeno: 02.11.2018.  (it quotes Piana, G. (1982) Colori e suoni, Unicopli, Milan)
G. Others
Sensorium Communis Geographiae Some Introductory Steps to a Geoaesthetics by Mario Nevei
DIGITAL NARRATIVE MEDICINE
In French language:
La Phenomenologie et l'Ecole de Milan (Elio Franzini)
Entendre (x) comme (une) oeuvre, di Arbo, Volume 37, Numéro 1–2–2017, p. 3–25, Sémiotique et musique. Tome 2, Diffusion numérique : 24 septembre 2018
FUBINI, Enrico. 2007. «Imagination et sentiments: Du formalisme à la signifiance». En Sens et signification en musique, editado por Marta Grábocz, 23-34. Paris: Hermann Éditieurs.
"Musique et métaphores spatiales"
Les règles de l'espace chromatique http://www.implications-philosophiques.org/langage-et-esthetique/implications-de-la-perception/les-regles-de-l%E2%80%99espace-chromatique-1/
Traits : une métaphysique du singulier - Paolo Godani
In Portoguese / Brazilian language:
APONTAMENTOS GERAIS PARA O ESTUDO DA FILOSOFIA DA MÚSICA
O fenômeno da percepção como processo criativo na composição musical - di SERGIO ANDRES MURILLO JEREZ
A trilha sonora teatral em pauta: experiências de criadores de trilha sonora em Porto Alegre
SOBRE SILÊNCIO (MUSICAL): JOHN CAGE E A PROPOSTA DE UMA NOVA MÚSICA PARA NOVOS OUVIDOS. in:____ Anais Simpósio de Estética e Filosofia da Música 2013/ UFRGS
https://eprints.ucm.es/56361/1/T41235.pdf
A disonancia, uma intepretacao do sublime en Kant, 2017.
O fenômeno da percepção como processo criativo na composição musical
Música: universalidade, linguagem e significação
Darius Milhaud: O Nacionalismo Francês e a conexão com o Brasil
O diálogo criativo entre o compositor da música de cena e o encenador contemporâneo à luz de uma macro-harmonia
A HARMONIA DOS LIMITANTES E ILIMITADOS ATRAVÉS DOS NÚMEROS NOS FRAGMENTOS DE FILOLAU DE CROTONA
A MÚSICA COMO SUPERAÇÃO DO PESSIMISMO NA ESTÉTICA DE SCHOPENHAUER
In Spanish/Catalan language:
En torno a la nueva visión de Husserl Javier San Martín
Alejandra Spagnuolo Nanni, La relación entre literatura y música –a la luz de la semiótica de Peirce– en Trois Chansons de Bilitis (textos poéticos de Pierre Louÿs, música de Claude Debussy) MEMORIA PARA OPTAR AL GRADO DE DOCTORA, 2018.
Tiempo y Lebenswelt en la fenomenologia de Enzo Paci Davide Eugenio Daturi in EIKASIA REVISTA DE FILOSOFÍA, NÚMERO 6 9 | ABRIL 2016 LA FILOSOFÍA ITALIANA: ENZO PACI Número coordinado por DAVIDE DATURI
Fernando Luis Peligero Escudero, OBJETIVIDAD E IDEALIDAD EN HUSSERL (LA POLEMICA CONTRA EL RELATIVISMO), Universidad Complutense, 1986.
EL PROBLEMA DEL SENTIDO EN LA ESCUELA FENOMENOLÓGICA ITALIANA ACTUAL: ANGELA ALES BELLO, VINCENZO COSTA, VITTORIO DE PALMA Eduardo González Di Pierro

Influencia de Lukács en los movimientos revolucionarios italianos del siglo XX
Review: El Joven Lukács: entre el estructuralismo y la historicidad. Reseña de libros sobre Georg Lukács publicados en diversos países del mundo durante la década 1970-1980
El pensamiento politico de Lukács
György Lukács, la orientación sentimental o el concepto, Carlos Surghi (2015)
La cuesti comunista: Las palabras que conmovieron el mundo
Les illes atapeïdes: del paradís perdut al trast insular

Pathos della Forma Sul pensiero di Emil Lask
IMAGEN Y SENTIDO - REFLEXIONES FENOMENOLÓGICAS Y HERMENÉUTICAS
Julio Cortés Morales, Derecho y transformación social: el rol del derecho en los inicios del capitalismo moderno, Ad Libitum, 2014.
In German:
Leben, Theorie und Wert in Emil Lasks Denken
Ist husserls phänomenologie ein transzendentaler idealismus?
Die Kategorien des Sinnlichen. Zu Husserls Kategorienlehre
Vittorio De Palma, Das sinnlich Gegebene als die wahrhafte Wirklichkeit: Husserls Umstülpung von Hegels Idealismus (2020) DOI: 10.25518/1782-2041.1141
Die Syntax der Erfahrung di V. De Palma
DER SCHATTEN AN DER GRENZE DER EPOCHE (2020) - LUIGI AZZARITI-FUMAROLI
In Slovenian language:
Temeljni koncepti filozofije Enza Pacija - pojem sveta (1999). Phainomena (Ljubljana), letnik 9!, številka 27/28, str. 261-322. URN:NBN:SI:DOC-8N0HY157 from http://www.dlib.si
Antonio Banfi and His School of Thinking in Contemporary Musical Aesthetics Antonio Banfi in njegova smer vsodobni glasbeni estetiki 
In Czech language:
György Lukács,otázka marxistické ortodoxie a český marxismus Úvodní slovo k Lukácsovu eseji "Co je ortodoxní marxismus?" Ivan Landa (2016)
In Bulgarian language: Paper by Andrej Leshkov